Mobile Number with Free Receive SMS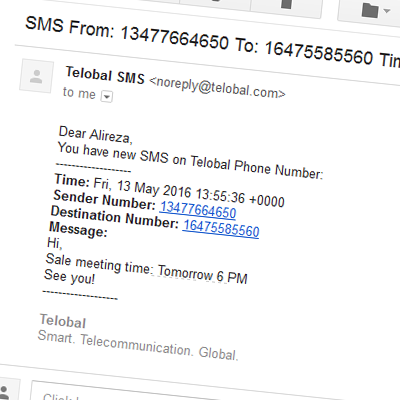 Telobal Provide Virtual Numbers (DIDs) from all of the world. also for some area, Telobal Provide Mobile Number Virtual Number. By Telobal free PBX and VOiP you can outbound call from your Number. SMS will be receive and forward to your E-Mail immediately. Telobal Receive SMS is a free service!
Ukraine Mobile ($4.99 per Month) *
Finland Mobile ($12.99 per Month) *
Poland Mobile ($12.99 per Month) *
Australia Mobile ($16.99 per Month) *
Sweden Mobile ($12.99 per Month) **
Canada numbers ($4.99 per Month) ***

* Mobile numbers of Ukraine, Finland, Poland, Australia and Sweden are mobile numbers Prefix and you can register in sites and applications such as Telegram, WhatsApp and more.
** Sweden Telecommunication may be drop receive SMS from public services.
*** Canada does not have the mobile numbers prefix and the numbers provide in Telobal is "landline (Voip) numbers with support receiving SMS" and act like mobile numbers and sites and applications maybe accept or not as mobile.